Aprox. 100 minutes of Sunset or Panoramic Tour for maximum of 100 people !
We will provide a unique lifetime experience.  In just 100 min you will have the opportunity to discover the most beautiful places in Split.
You will see city beaches, beautiful nature park Marjan, hidden Vilas only visible from the sea. Cruising in crystal clear water of the Adriatic Sea and hear an interesting story about Split and Dalmatian islands, we will countdown until romantic sunset and chill out with a glass of domestic wine.
This will be a perfect start of your romantic evening!
If you are looking for beaches in Split near the port, there is just one answer – Bacvice beach Split Croatia! Bacvice beach is a natural phenomenon in the heart of the city and also the most popular sandy beach in the center. The beach is only 1 km away from the center of Split. …
Season 2020
For adults and children from 4 years: 150,00 kn/20€
Children up to 4 years gratis
wifi
sunbeds
domestic red & white wine & lemonade & watter on selfservice base
beer
cocktails
snacks
ice-creams
short drinks
all that you can buy at Bar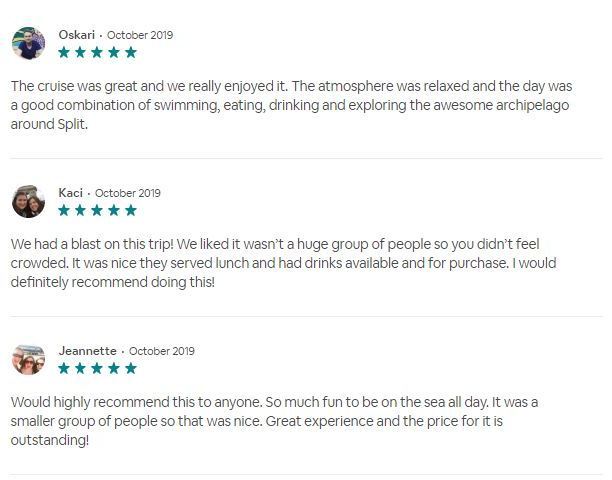 It's time to start your adventures
NOTE: If you book a tour through this web page  you will pay 20% of deposit and the rest in cash (80%) on boat.
TO BOOK A TOUR IT IS NECESSARY TO CHOOSE THE DATE, THE TOTAL NUMBER OF PEOPLE IN THE GROUP, THE NUMBER OF ADULTS AND CHILDREN IF THEY GO ON A TRIP, THE TOUR  AND TO FILL CORRECT CONTACT INFORMATION.
IMPORTANT INFO!
BOOKING CONFIRMATION
If your payment was approved and booking was successful:
Please keep the e-mail booking receipt you received, with all the booking details provided, in order to prove you booked your tour and paid 20% deposit

You must show us your booking receipt upon arrival and pay in cash the rest of the ticket price (80%).
CHANGE OF TOUR ROUTE

If during the tours we come across the unfavorable weather the skipper and the captain can change the tour route. Depend on the weather conditions we reserve the right to change the date of departure in case of unfavorable weather conditions. In case of unfavorable weather conditions we will organize the excursion on the next day or will provide full refund to the customers. Please bear in mind that our customers' safety is our first concern.
CANCELLATION  AND  REFUNDS
We would deeply regret your decision to cancel your tour, however we realize that there are many valid reasons that this can happen. In the event of cancellation we will refund any payment made to us (less any cancellation fee if applicable) within 5 days of our receipt of your written cancellation request. The cancellation fee will be calculated as follows:
GROUP TOURS
For a reservation cancelled up to 7 days days prior to departure – no charge

In case of no-show, the total price of the reservation will be charged
PRIVATE TOURS
For a reservation cancelled up to 7 days days prior to departure – no charge

In case of no-show, the total price of the reservation will be charged
E-mail address to send your cancellation request is the following: korsaro.boat@gmail.com