GET TO KNOW ADRIATIC Coastline
Enjoy. Explore. Discover.
Blue Lagoon by three islands tour
Fantastic Pirate Adventure for the whole family go back to our history and become one-day Korsaro pirate!
Welcome to Korsaro; a daily cruise of sensory satisfaction and hedonistic adventure. Your experience will take you on a mystical pirates journey in this cozy setting.  Combining Sea Cruising and Food, Swimming and Music, Sun and Pleasure!
Your full day adventure begins with an exploration of the 5 senses of Sensuality and Creation: Touch, Taste, Scent, Sight, Hearing.  Enjoy your time in a morning cruise around several Dalmatian islands in the relaxing atmosphere on the open deck with the experienced crew or explore sea underwater trough 4 glass panes … the Magical Blue Lagoon is just around the horn and waits for you to dive in this paradise! 
Obala Hrvatskog narodnog preporoda 12, city Split port. Lets start your adventure!
Season 2022
Price with lunch and drinks included
For adults: 420,00 kn/approx. 55€
For children from age 4: 220,00 kn/29€
Children up to 4 years are free of charge!
full day tour to Blue Lagoon & 3 Island
for lunch on the boat you can choose between: fish, meat (chicken), vege (grill vegetables or vegetable risotto)
local red & white wine during a lunch
lemonade and water for free throughout the trip on a self-serve basis
wifi
sun beds
4 glass windows for exploring sea underwater
snookering equipment
inflatable despasitos
beer
cocktails
snacks
ice-creams
short drinks
all that you can buy at Bar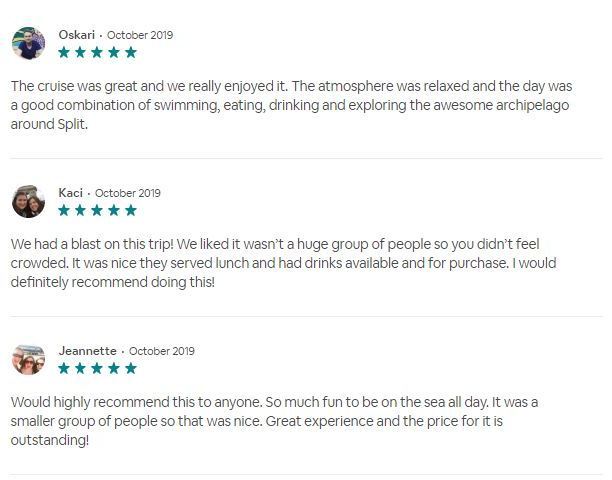 It's time to start your adventures
NOTE: If you book a tour through this web page  you will pay 20% of deposit and the rest in cash (80%) on boat.
TO BOOK A TOUR IT IS NECESSARY TO CHOOSE THE DATE, THE TOTAL NUMBER OF PEOPLE IN THE GROUP, THE NUMBER OF ADULTS AND CHILDREN IF THEY GO ON A TRIP, THE TOUR  AND TO FILL CORRECT CONTACT INFORMATION.
IMPORTANT INFO!
BOOKING CONFIRMATION
If your payment was approved and booking was successful:
Please keep the e-mail booking receipt you received, with all the booking details provided, in order to prove you booked your tour and paid 20% deposit

You must show us your booking receipt upon arrival and pay in cash the rest of the ticket price (80%).
CHANGE OF TOUR ROUTE

If during the tours we come across the unfavorable weather the skipper and the captain can change the tour route. Depend on the weather conditions we reserve the right to change the date of departure in case of unfavorable weather conditions. In case of unfavorable weather conditions we will organize the excursion on the next day or will provide full refund to the customers. Please bear in mind that our customers' safety is our first concern.
CANCELLATION  AND  REFUNDS
We would deeply regret your decision to cancel your tour, however we realize that there are many valid reasons that this can happen. In the event of cancellation we will refund any payment made to us (less any cancellation fee if applicable) within 5 days of our receipt of your written cancellation request. The cancellation fee will be calculated as follows:
GROUP TOURS
For a reservation cancelled up to 7 days days prior to departure – no charge

In case of no-show, the total price of the reservation will be charged
PRIVATE TOURS
For a reservation cancelled up to 7 days days prior to departure – no charge

In case of no-show, the total price of the reservation will be charged
E-mail address to send your cancellation request is the following: korsaro.boat@gmail.com