Necujam is a tourist village and excursion center,situated in a bay also called Necujam, on the north side of the Šolta Island.
Many consider Necujam the most beautiful bay of the island of Šolta because of beautiful beaches on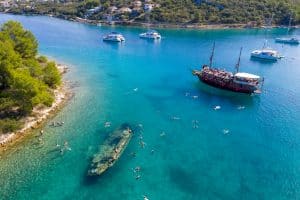 both sides of the bay in the coves and a long seafront promenade.
The astonishing nature is what makes this place a true paradise. You'll be welcomed by thick pine woods, trees of olives, crystal clear sea… Also, this place hides a little secret.
A sunken ship which is a perfect place to go snorkeling and take some amazing photos.